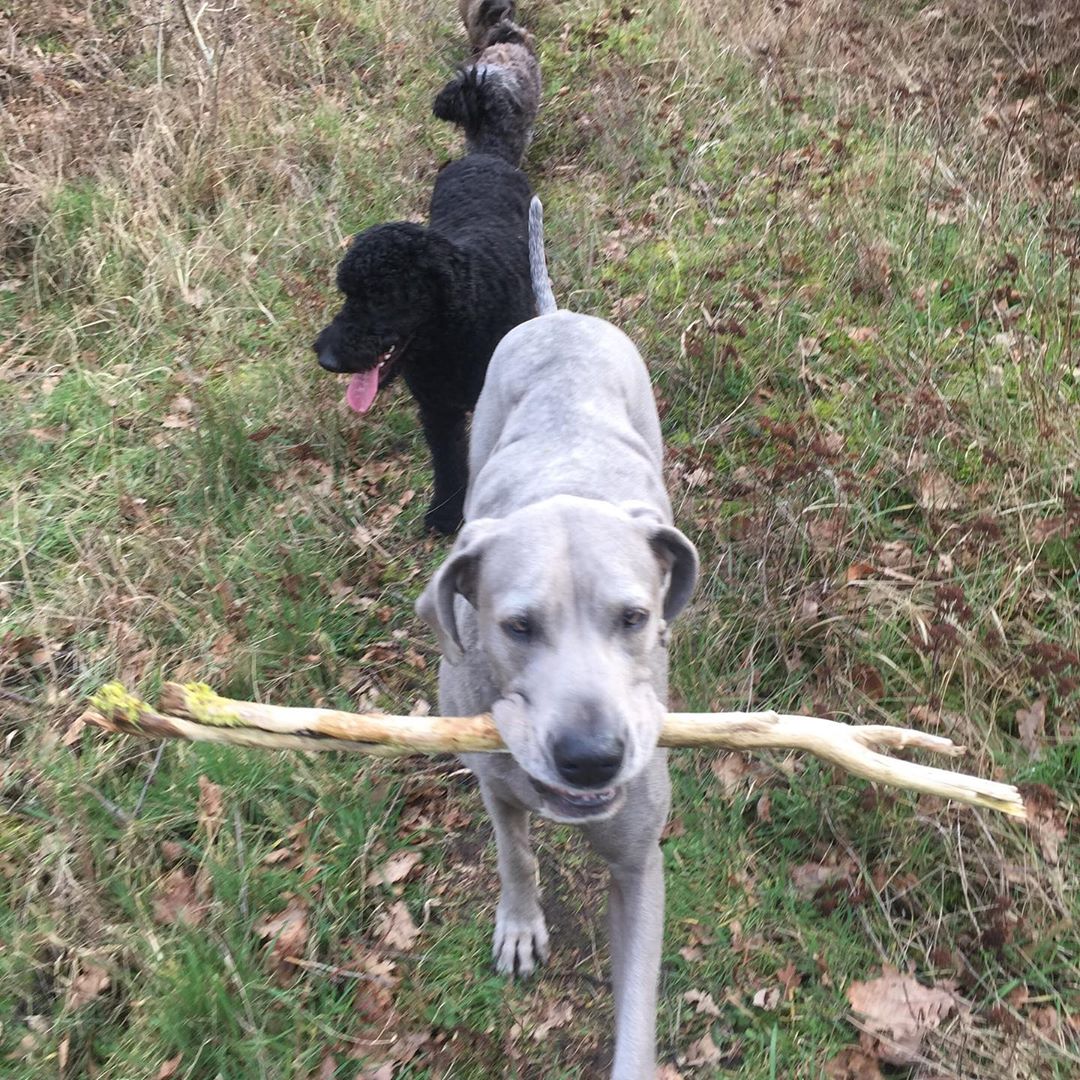 Milly
een bijna 5 jaar oude teef, Duitse dog, loopt nu bijna een jaar met ons mee. Een lieve, verlegen dame, die het spelen en wandelen opnieuw heeft mogen ontdekken.
Het is ons eigenlijk direct opgevallen, Milly moest toch echt wel ergens pijn hebben. Want hoewel ze verlegen en wat schuchter bleek, gaf ze ook duidelijk aan te willen spelen en stoeien met de andere honden. Zodra de honden er dan op in gingen, deinsde Milly terug, angstig en soms met een piep of gilletje zonder dat er fysiek contact was geweest. Ook het weifelen bij instappen van de bus of  bij uitstappen soms een piepje, dat waren echt wel indicaties. 
Een speelse jonge hond
Na terugkoppeling met de eigenaren, besloten zij Milly te laten onderzoeken. Helaas bleek Milly inderdaad flinke pijn te ervaren als gevolg van vergroeiingen in haar rug. Aangepast voer en met medicatie zou Milly zich beter moeten gaan voelen……en hoe!
Een jonge speelse grote hond is tevoorschijn gekomen. Het is echt zo dankbaar om een zo enorm blije hond mee te kunnen nemen om te spelen en te stoeien, eindelijk kan ze hond zijn, ze heeft dan ook wat in te halen. Sindsdien horen we geen piepjes meer en initieert ze spel met klein en groot vol overgave!
Milly  staat op de dagen dat ze met Dat Loopt Wel Los meegaat al vroeg voor het raam op de bus te wachten. Dat zegt al genoeg! Ze springt elke keer weer blij de bus in. Niet alleen Milly is blij, ook wij kunnen haar met een grust hart laten gaan. En de aftercare is ook super lief! Altijd een goed communicatie. Super dank! Margy, eigenaar Milly